The LifeLinks Day Habilitation Program is a community-based program committed to helping people with developmental disabilities to increase and encourage their independence.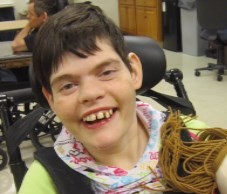 Our program occupies a beautiful state-of-the-art facility that is handicapped-accessible and meets all ADA standards.  We have the capacity to serve 150 individuals with a wide-range of developmental disabilities and other clinical support needs including people with vision and hearing impairments, people who are aging and/or medically fragile, and people with mental health or behavioral challenges.  Program hours are from 8:15 am to 2:15 pm Monday through Friday.
Program participants have use of large program and classroom areas, wide hallways, private rooms for personal care, fully interactive sensory rooms, a cafeteria and teaching kitchen, and a patio for outdoor activities and enjoyment.The Day Habilitation Program offers a unique classroom model, with a diverse daily schedule of classes and activities that provide training and skill development in a fun, interactive environment.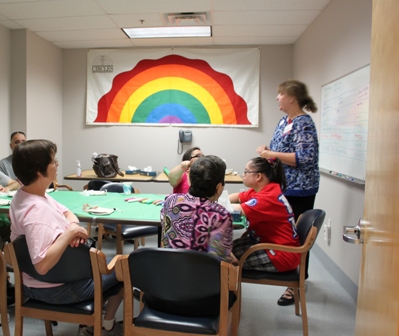 Training takes place in individual or small group sessions. Whenever possible, training is provided in natural or community settings including restaurants, stores, banks, parks, or museums. Each program room is staffed with a Program Manager, Developmental Specialist and Direct Support Staff. All staff are CPR and First Aid certified and many have specialized training in behavior management, physical assistance, and sensory integration.
For some participants, individualized occupational therapy, speech and language therapy, and/or physical therapy programs are developed by our clinical staff and carried out in individual training sessions.
Families and guardians are invited to DHSP meetings and receive ongoing communication throughout the DHSP year regarding progress on goals. Individuals, families and guardians are an integral part of the service delivery team and are encouraged to communicate and participate in the planning and design of the individual's services.
A strong emphasis is placed on community participation and volunteerism for those participants who are interested in accessing their community. The program also partners with area businesses and agencies to bring community into the facility for those individuals who are unable to go out into the community on a regular basis.
CLINICAL SERVICES
LifeLinks Day Habilitation Program provides on-site nursing services to participants. The Nursing Team includes a Registered Nurse and Licensed Practical Nurses who oversee and monitor each participant's health status, administer medications and treatments, and coordinate medical care with individuals' primary care physicians.
The Day Habilitation Clinical Team includes a licensed, certified Speech and Language Pathologist, a registered and licensed Occupational Therapist, a licensed Physical Therapist, and a Behavioral Specialist. Each member of the Clinical Team provides assessments, programming, monitoring and staff training within their area of expertise for individuals that require these services.
The program is funded by Mass Health and participants must be over the age of 22 to be eligible for services. 

The LifeLinks Day Habilitation Program is nationally accredited through the Commission on Accreditation of Rehabilitation Facilities (CARF), for Community Services: Community Integration.
Call Shawn Nault, Director of Day Habilitation Services at 978-349-3080