Tuesday, September 12, 2017 3:30 pm - 4:30 pm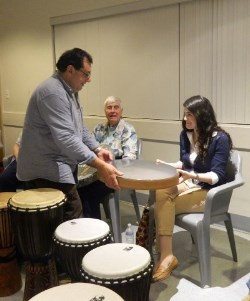 Location:
LifeLinks, 285 Mill Rd, Chelmsford MA
Description:
Drum Circle

Come to LifeLinks on Tuesday, September 12 at 3:30pm to learn about drum circles and practice playing the drums! Ed from Rhythm Speaks will use a variety of drums and percussion instruments and we'll share in the joy and the rhythm of drumming. Everyone will get a chance to play along!

If you haven't come to a drum circle yet, you're missing out! We have so much fun drumming, singing, and dancing.

Registration required.